We have no big news or updates about the things we are working on. We were not in LA for the E3, no exclusive parties, no surprise releases. What we DO have is Lethal League T-shirts and some other cool things regarding Lethal League we found online.
---
We teamed up with the nice people of Eighty Sixed Clothing to bring you some custom Lethal League merchandise. Take a look at this first design which is available for sale now at Eighty Sixed. There will be more stuff soon so stay tuned!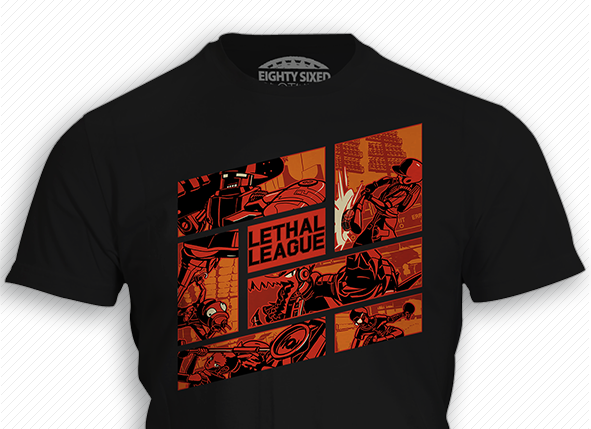 Next up is this cosplay duo. We were really impressed with this appearance of Latch and Candyman on A-kon a few weeks back. They really put some time and effort in this pieces. Well done Kyn Strider + GF!
Shame on us but we didn't cover the Lethal League 2v2 Combo Breaker Grand Finals yet. In the grand finals the respected online Lethal League players N64(shffl), Monk, Tixl and Diplomat stepped into the 2v2 ring with Diplomat & Tixl in the blue corner and N64 & Monk in the red one. Obviously we won't spoil the results but we witnessed an intense match with some awesome plays. We even saw some unintended competitive techniques! Stream by VGBootCamp and Commentators were 'Nobody' and 'Somebody'. Thanks Combo Breaker for hosting this Lethal League tournament!
Make sure to check it out!